This month has been flying by and it has been very busy. Not much accomplished on my counterfeit kit, but hoping to get farther this weekend. One Sr Album is complete, two more in process.
I took a break to try something different for some swaps over at
Scrapbooking FUN.biz
.
For a Vintage/Grunge Valentines Swap. You can't see, but the tag (TH Christmas Tag Size) is a recycled piece - it is a neon color, but I couldn't toss them. The ribbons are from either a dollar spot and just my stash. The papers are from a pack of dollar spot (I think they were target) items. The cardstock is either AC or Bazzill. The Butterfly is a Martha Stewart cupcake topper, trimmed to fit. Buttons (two are actually vintage), a little Jolee's charm and piece of trim complete the embellishments. The stamp is one I made using some of my fancy scissors, a piece of dollar store paper, ink, and some little hearts left from some die cuts I had made. I use my little separator drawers to keep some of these little punched images on hand - hearts, butterflies, leaves, etc.. Each has their own drawer.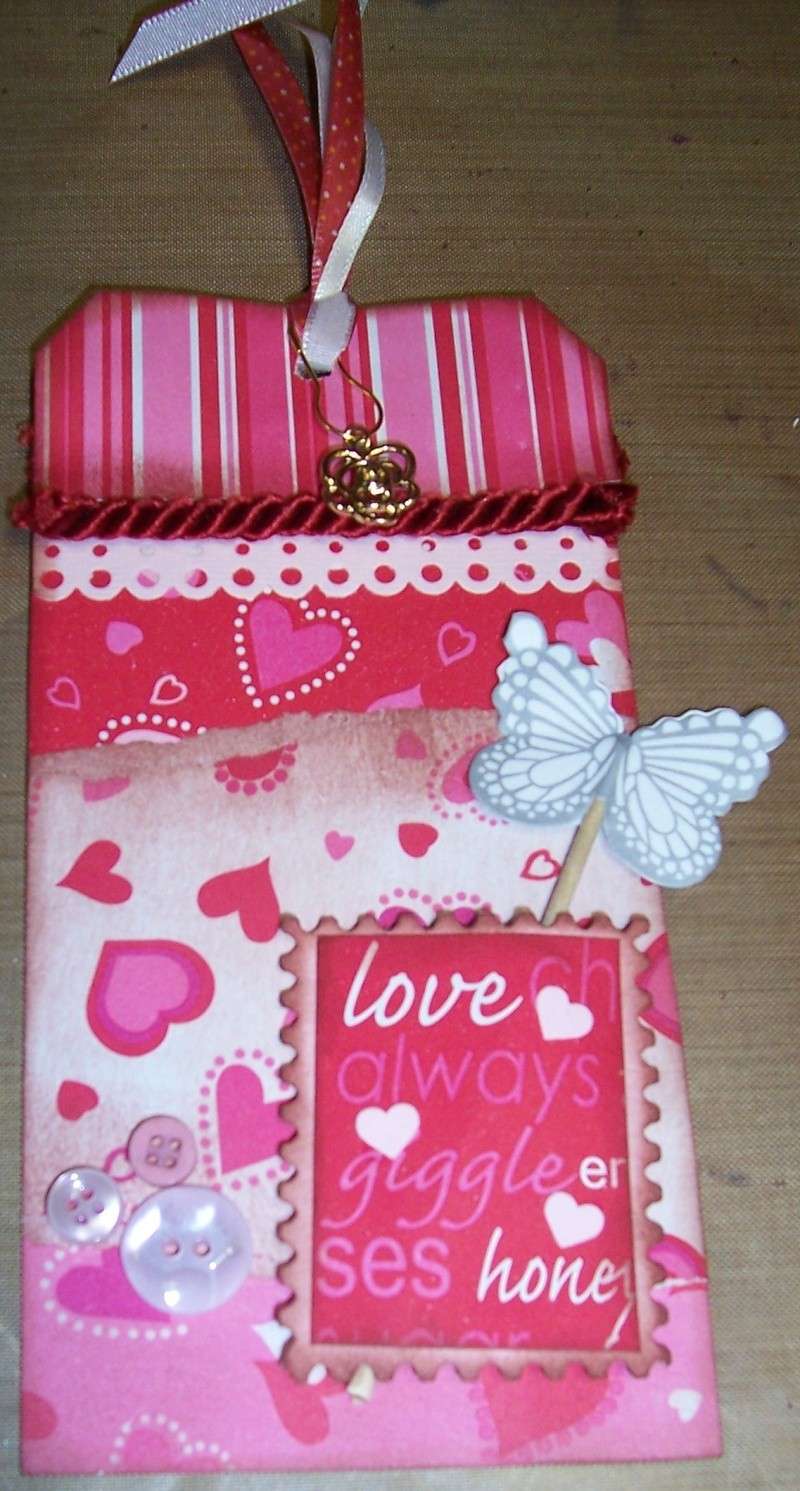 For a Pick a Holiday Library Card Swap - pretty straightforward and plain, but I am happy with the results. Everything came from my stash. AC Cardstock, some K & Company (or KI Memories, I can't remember) die cut pieces, the heart die cuts are from a laser cut sheet, the words on the front are from a DCWV paper pack. The foam heart/scallop are from somewhere LOL. The other two papers were from a dollar store - many years ago. Other than the adhesvie, I think the newest pieces were the cardstock and the Be My Valentine Sentiment. Keeping a drawer for Valetines papers and embellishments made creating this pretty fun. Just go through the drawer and see what you feel like using.
Hoping to get a bit more completed this weekend.